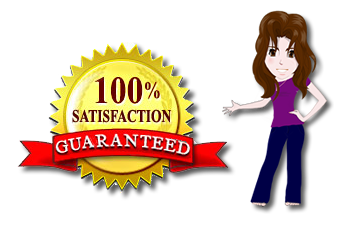 Most issues, such as those involving pain and emotion, respond immediately to Emotional Freedom Techniques® (EFT®) and The EGO Tamer® (TET) Tapping Technique. More complex issues such as trauma, grief, PTSD, weight, or those involving autoimmune disease processes and chronic illnesses can take longer to resolve.
We know that EFT® and TET Tapping are highly effective. Built into the protocol is a tool called the SUD (Subjective Units of Distress) scale – or SUDs. Simply stated, our clients are asked to rate the level of pain or upset regarding their presenting topic on a scale of 0-10. As the session progresses, each client is asked to retest their SUDs levels several times. Using this scale, the client can easily determine if EFT® and TET Tapping are working for them.
Our Guarantee covers three basic promises related to your personal EFT/TET Tapping personal coaching sessions with Jan:
Jan will ensure that EFT/TET Tapping works for you. (You rate your distress and YOU decide if/when your SUDs numbers are going down.)
Jan will will provide you with inspired ideas and insights that you didn't have prior to your personal coaching session.
You will FEEL better. The energy often lifts like a heavy cloak leaving you feeling lighter, happier and more hopeful.
If, for some reason, Jan cannot deliver on these three promises, she will simply refund your session payment – no fuss, no bother. Jan wants you to be completely happy with your session and if you aren't happy, she's not happy. The following conditions and restrictions apply:
Only one (1) refund per client will be issued.

ALL refunds will be made through PayPal.
You must request your refund within seven (7) days following the date of the service provided. (For workshops and training classes, please see our Workshop Terms of Attendance.)

Should you choose to take the refund, we'll ask that you find another practitioner who is a better fit for you. If you choose to continue sessions with Jan, no refunds will be offered.
By complying with the conditions and restrictions listed above, you can be assured that your request will be granted, no questions asked, within 24 hours of you making that request. Thank you for respecting our efforts to serve you.
NOTE REGARDING CHRONIC ISSUES: Most issues, including trauma, never return after being cleared with EFT/TET Tapping. Other issues, such as chronic anxiety, chronic depression, and chronic pain are susceptible to recurrence due to the results of your session being negated by an energy toxin such as a toxic food, a virus, or bacteria. That is why they are considered chronic issues. We do, however, believe that over time even these chronic issues can be completely eliminated using EFT/TET Tapping.